FOR SALE - NORCROSS - 11,250 SF RETAIL Building - Buford Hwy Exposure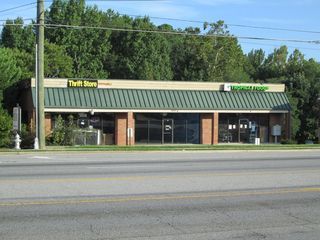 Location:
Norcross, GA
- 11,250 retail building situated on 0.91 acres
- Building designed for up to six separate tenants (see floor plans)
- Each suite individually metered
- Located on the corner lot
- Direct exposure from Buford Hwy.
- Short term leases / 100% occupied
- New owner can occupy the property
- All units have ground floor access
- Outstanding for owner-occupier(tenants are on short term leases)
Current Gross Income: $72,600 (based on current 100% occupancy)
Property Tax: $7,096 per year
LOCATION HIGHLIGHTS:
- Approx. 43,458 ± vehicles per day on average
- 106 ± feet street frontage on Buford Hwy
- 157 ± feet street frontage on Summerour St
- Across from Norcross US Post Office
- 0.2 mile across from Lillian Webb Park (near Historic Downtown Norcross)
- Approximately one mile east of the intersection of Jimmy Carter Blvd., and Buford Hwy.
- 0.3 ± mile from Lillian Webb Park in downtown Norcross
All information above has been obtained from sources believed reliable and is subject to change without notice. No warranty or representation, expressed or implied, is made as to the accuracy of information contained herein. It is the responsibility of each prospective tenant and/or buyer, or any interested party to independently confirm its accuracy and completeness of any information.
5658 Buford Hwy
Norcross, GA 30071
View Map
Total Square Footage:
11,250 SF